Jennifer Wharton's BONEGASM
October 24, 2021 @ 5:00 pm

-

6:30 pm

EDT
It's trombone mania! Come celebrate this gorgeous instrument with Jennifer Wharton's BONEGASM!
Jennifer Wharton's BONEGASM
Birdland Jazz Club
"Tromobone Ecstasy" – Downbeat Magazine
Bass trombonist Jennifer Wharton might be considered by many as a unicorn in the world of music. In decades from the not-too-distant past, it was a rarity to even have a woman in prominent jazz bands and orchestras, but to have a bass trombone-slinging woman as leader was thought extraordinary. In efforts to highlight her perceived position as a rara avis, Wharton took it upon herself to not only raise the profile of women instrumentalists but also that of her chosen horn (and its smaller cousins).
In 2019, Wharton presented her trombone-powered ensemble, Bonegasm, via its self-titled debut album on Sunnyside Records. Wharton enlisted fellow trombonists John Fedchock, Nate Mayland and Alan Ferber, along with the rhythm section of pianist Michael Eckroth, bassist Evan Gregor and drummer Don Peretz. The music performed included originals and arrangements the leader commissioned from prominent composers she knew as well as members of the ensemble.
The overwhelming response to Bonegasm's music was astounding, cementing Wharton's assertion that this assemblage was no flash in the pan but an important exponent of shaping the trombone's primacy in jazz music. Bonegasm's new recording, Not a Novelty, wears its intentions on its sleeve, or perhaps more appropriately, tattooed on its arm.
Not a Novelty, sprang from the pandemic of COVID-19 in the States, essentially as a way to keep Wharton engaged in a project with a purpose. A beneficial grant from the New York City Women's Fund ensured that the commissions and recording could take place without any hitches outside of the physical limitations of social distancing for rehearsals and recording.
Jennifer Wharton looks at Not a Novelty as a needed return. Not only did she productively utilize the time that an unprecedented circumstance presented to her, but she also took the opportunity to promote the advancement of trombone led music in the jazz canon, a task that should be celebrated and not just by unicorns.
Jennifer Wharton
I play low notes.
www.jenniferwharton.com
www.bonegasm.com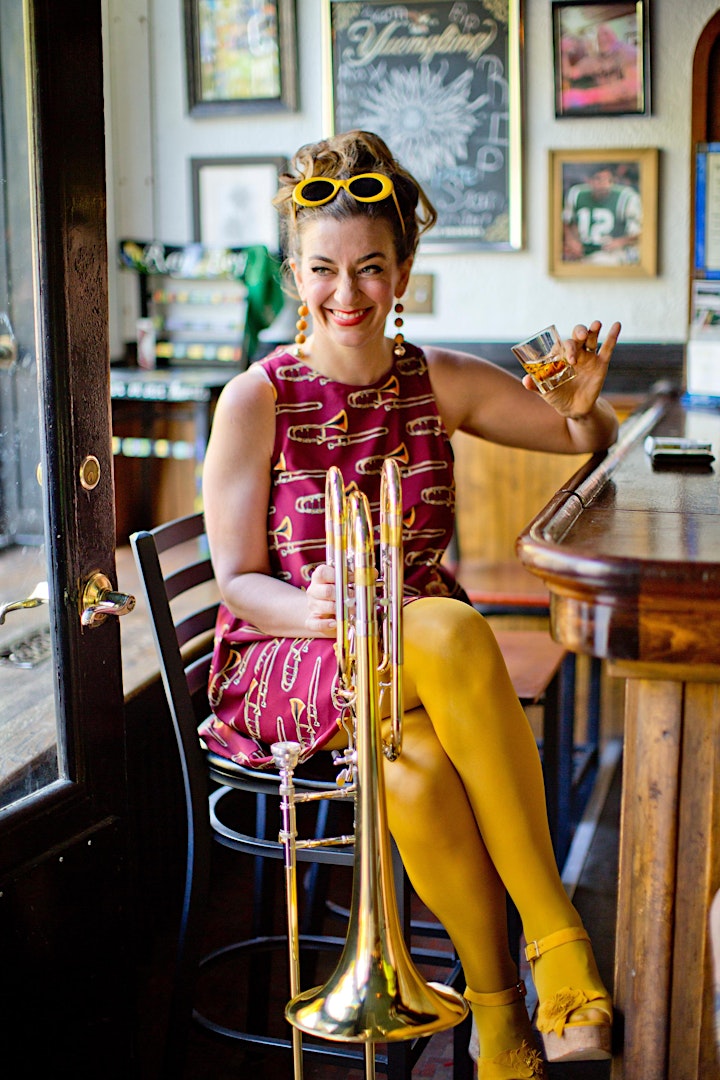 NOTE: Submissions to the Event Calendar will appear after they are approved by the site administrator and that process could take up to one business day.